Introducing the BoilSafe™ Integrated Cooktop System

Product Background
The simple task of boiling water in a pot and draining it afterward has been an age-old hazard in the kitchen. Carrying heavy pots filled with scalding water to and from different areas of the kitchen and tipping them over to expel their contents is not only an arduous task, but also has the potential to inflict serious injuries to cooks and those around them. It is always a benefit to our industry (and our daily lives), when a cooking system is devised which first and foremost increases personal safety when preparing food. And appliances with innovative safety and convenience features can naturally provide a sought-after market advantage to any manufacturer's product line. Many solutions to the basic problem of removing boiling water after use have been proposed over the years, but none have resolved this dangerous dilemma quickly, easily, and simply – until now. 

BoilSafe Summary
The BoilSafe™ Integrated Cooktop System safely combines several necessary and fundamental food preparation tasks into one, convenient, fully integrated system. By simply configuring a pot with drainage capabilities above a cooktop with a drainage port, the pot's liquid can be released down through the cooktop to a sink and drain configured below. This unique innovation not only consolidates the cooking tasks of filling, heating, and expelling liquid and the associated space required, but also increases the speed and productivity of the cook while practically eliminating his or her risk of burns and injury. Configured as a residential, commercial, or industrial free – standing kitchen appliance, this simple, easy to use product has the potential to redefine the way professional and everyday cooks prepare their daily meals. 
The BoilSafe Advantage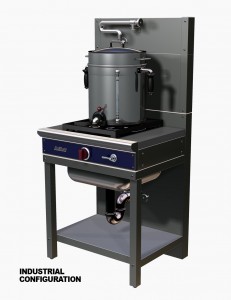 Safety - greatly reduces the possibility of serious injuries while cooking in commercial and residential kitchens.

 
Increased Productivity - will increase the volume and variety of food that can be prepared by performing several cooking tasks simultaneously, with limited or no downtime in between stages.

 
Convenience - consolidates several cooking tasks into one, fast, easy-to-learn, intuitive system.
Handicap Adaptability - consolidation of tasks lends itself naturally to the elderly and physically impaired.

 
Market Advantage - patented proprietary system that will exceed current OSHA requirements
Patented Technology
The BoilSafe™ Integrated Cooktop System  is registered with the United states Patent and Trademark Office, Patent #US8616121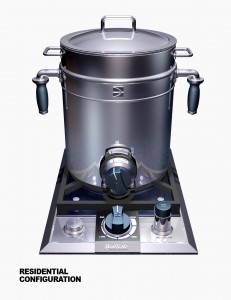 The Opportunity  
A limited number of licensees in the U.S. are sought